The Bear and the Piano

Here's a fun activity pack you can download and print based on our departing class text The Bear and The Piano
31st January
Well this week has gone very fast indeed and it has been busy...
English
In English we have been working hard at being reporters for our Bear and the Piano story. We're in the final week of our work on this now and the children have produced some great newspaper reports about Bear. We'll finish the learning for this unit with a piece of writing retelling the story using elements of the writing styles we've learned along the way.
Maths
In maths we've been continuing our work on division and are almost ready to move on. This week we've looked at the principal of division including the use of methods such as bar models to represent problems. We've also earned about related multiplication and division facts (families of facts) and we'll finish the week with problem solving activities. 
Topic
In topic we created our own beech huts for our class display using water colours and also acrylic pens.We wrote our questions for the rest of the topic and we began our c=scratch coding, working towards out book related work.
PE
In PE we played a crazy game called 'attack or defend'. Children had to choose whether or not they would attack their opponents cone and knock it down with a soft ball or defend their own cone. It was a fast paced game that the children really enjoyed so we are going to have another game tomorrow, as well as learning how to play bench ball (without benches!).
Finally, we have now collated the orders for the CGP home study books they some of you have ordered since parents evening. We will be placing the order tomorrow so we'll be able to send those books home shortly. 
As usual, I've posted  a few pictures from the week below.
Have a good week!
P.S - We've had some more cracking homework!
Mr Sykes
23rd January
I'd just like to welcome our new class teacher Miss Tyrell who will be with us until June. Miss Tyrrell will be working alongside me in class as she undertakes her PGCE course with Staffordshire University. She has already made a splash and knows most of the children. She'll be with us for little while until her placement starts officially in March. I'm sure you will all joins me in welcoming Miss Tyrrell to the team and we are very lucky to have her support. 
Maths
In maths we are learning about multiplication and division. We have learnt about sharing into equal groups and about the meaning behind the division symbol itself. We have practised dividing cubes into equal groups of 2, 5 and 3. We also completed stem sentences to explain our working out. We are moving this into pictorial problems and division sentences, ultimately aiming to build our fluency and use our skill sot solve more complex problems.
English
The Bear and the Piano has been a great book to kick of our learning this year. We've been able to recap on all of our previous learning by writing setting descriptions of his forest, we've writing short section of the narrative and we've written post cards from Bear to his friends in the forest which we will use for our class display.  We are going to write a newspaper article this week and then we'll be re-telling the story, hopefully including some of the writing skills we've practised!
Science
This last week we've continued with our Science learning. We've continued to look at how animals change as they grown and the animal life cycle. We wrote conclusions for our experiment and looked at the basic needs of animals - how the are similar and how they may differ too.
Topic - We finally began our topic this week by writing our pre-planning questions about beaches and oceans. We've also been learning My Lighthouse and Oh I do like to be beside the seaside.
Finally, there has been some great topic homework this week and I've taken pictures. Have a look below:
Mr S  :)
11th January 2019
I hope everyone had a great break over Christmas. It has been a great week this week, hearing about the children's holidays and getting back into the swing of things. We've hit the ground running and everything (and everyone!) is much calmer now that Christmas is over.
Please take a look on the class pages for the 'Beside the side, Beside the sea' topic plan. We have started aspects of it this week (mainly science) but I'm holding back a few things until we start our topic related class text. At the moment, I thought it would be nice to get back into routine with some different text so we are working on something different for now.
English
In English we have been busy exploring the cover of our text, The Bear and the Piano by David Litchfield, making predictions about the story and the character and really getting stuck into some amazing descriptions of his forest home. I'll put pictures up of some of these after the weekend but we are all working very hard indeed.
Maths
In maths we've been working on finding equal groups to match multiplications and repeated addition. The children have been working through a series of different problems to improve their fluency and understanding of what is happening when we multiply. We've had the block out, counters and today we have been finding reversing the process by starting with the product and thinking about how we would get there with multiplication and addition. Build it, draw it and write has been the motto of my little group this week as we've started with a number like 8, built it with counters and put into equal groups of two, counted up how many groups it has made (4) and then turned that into a multiplication saying, "4 x 2 = 8. Four twos are 8.  Four equal groups of two are eight. 2+2+2+2=4." we've paid particular attention to what the x symbol means and the children are using terms such as "equal groups" or "lots of" which is great.
Science
We've done lots of science this week and that has been looking at animal life cycles of bears, penguins and humans. Today we are looking at growth stages in humans and how humans change as they get older. I've arranged for two children from each year group to pop in this afternoon so we can time how long it takes them to drink a glass of water. We'll then explore what happens and record results!
Homework
This is back on track again now and hopefully you can all adapt to the sudden influx of homework again. If you have any problems, just let me know. 
PE
PE is now on Monday and Thursday so please ensure the children have all the kit they need and as agreed, I'll keep it in school until the end of the half term. We are playing ball games to improve our sending and receiving skills.
Finally, book banding has recommenced and its great to see progress. I know it can be frustrating at times if you feel your child is ready and we're not able to band them however, this is now proving to me without a doubt that our Y2 strategy of banding earlier in the term and working on comprehension and inference skills through guided reading session in class and small groups, combined with regular home reading and questioning is paying off. I['m sure you'll agree with me that it is much better for children to feel they are progressing each time they are assessed, rather than remaining on the same band because they are not quite ready. From time to time we may run out of books in your child's band but we'll continue to do our best to stay on top of this where we can.
Have a great week.
Mr Sykes
I think I'll choose  festive red for this post...
It's nearly Christmas. I'm so sorry I've lapsed with the weekly updates but the nativity has made things particularly busy around the KS1 department so I've not had the time in the evenings to post my updates. Never the less, post shall resume normal functionality and regularity in the New Year.
Wow! The nativity went very well. Thank you to everyone who managed to see it and the help with the clothing etc. The children were fantastic and we were all very proud of their performance. Needless to say, that took some time and so life in year 2 has not quite been the same since we began rehearsals. Since the end of the nativity we have been doing lots of writing and topic work for our study work books (as Joshua C keeps reminding me the are called!). They are looking fab and over the remaining few days I'll be working individually with the children to add their finishing touches. You'll get to see them at parents evening and I'm sure you'll recognise the work and effort the children have put into them. I'm also certain you'll appreciate how much of a shift this is from what has happened in previous years at Willaston. Our first book has been tricky but the children have adapted well to the format, are proud of their creations and should be able to apply the skills much more readily in term 2.
Looking towards 2019...
When we come back after the break we will be studying a set of books with a particular focus on improving their writing and reading skills in light of the recent assessment that have taken place.
We will then progress on to our main topic books towards the end of January.
Parents' evening is on the horizon and I'll be meeting with each of you to discuss how your children are getting on. I'll provide each of you with some targets and things to think about at home to help with your child's progress. Each child is different of course, but many our goals are shared. For example, in English independent spelling, capital letters and full stops within pieces of writing will be key. To that effect, most of the topic homework next term will include a written element to promote the "High Five" sentence work that is expected in year 2. I'll be reminding all of the children of this on a daily basis and we'll be referring to the graphic below quite often as a reminder. I'll send one home with the homework books in the New Year.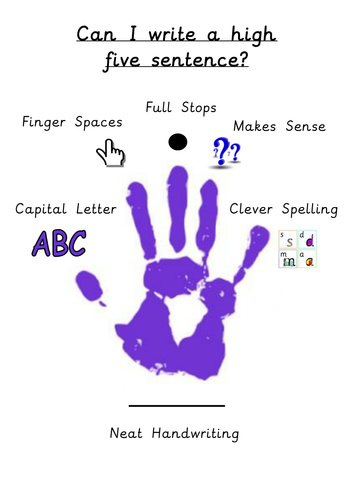 Keep an eye on the class pages in early January for updates about the upcoming topic for the term. 
Reading and Book Banding
We'll be continuing to book band in the new term. We will book band as many children as is possible during the first half term. As we work on a cycle, obviously those children that have been recently book banded will not be book banded again just yet. We will be continuing to aim to hear each child read weekly either with me, a parent helper (Mrs Brown), Mrs Gidman/Miss Pickup or possibly with my father in law, Mr Cooper who helps on a Wednesday.  Book club will be taking place twice weekly after lunch on a Tuesday and Thursday for group guided reading where I will also prompt children to change books. They are still free to change books under their own steam each morning if they need to. We will also continue to have our whole class reading sessions once per week. As always, please make sure the children have their books and reading diaries with them so they can be stamped but I will also continue to keep my own record.
Thanks to all of you (children and families) for your help, hard work and enthusiasm this term. I hope you all enjoy the holiday period and I am looking forward to all the exciting things that 2019 holds for year 2. 
Merry Christmas and a Happy New Year
Mr S
Another great creative homework. This is Olivia's game invention. I think it is possibly a top Christmas seller this one! (If you support Arsenal)
Well....It is 4:23 and I have just tidied up after today's medieval madness. Well, tidied-ish. What a day! We had a great time. I'm not going to say too much about it as I am sure the children have their own tales but this was our plan for the day:
Medieval Words – Middle English
The children had to find the meanings of some middle English words such as 'thou' and 'betwixst'. They were hidden around the room for them to find.
Calligraphy
We looked at quills and talked about their use in medieval times; before and beyond. The children cut and formed their own quills from goose feathers and used them with ink to try their hand at calligraphy.
Finally, they created their own place setting for the banquet.
Medieval Dance
Next we tried our hand at some simple medieval dance ready for the banquet.
Goblet Decorating
we looked at medieval goblets for the rich and wealthy. Everybody decorated a plastic goblet like the ones we saw and left it ready on their tables for the afternoon.
Medieval Banquet
Over lunch, Mrs Gidman, Aaron from Y6 and I prepared the room for banquet with a range of different foods similar or the same as that of the period. We talked about each of the items on the table including why and how it was used. We also tried to identify some weirder ingredients and tried peasant's pottage too, just so we had both perspectives on life in medieval times.
Entertainment
As a surprise, Mrs Hodgson and I had arranged for Sportscape to drop off some real archery sets so that we could hold and archery tournament. Thomas had a great eye for the target and I think he was our overall winner. Many thanks to Sportscape for the loan of the equipment.
We did it all! Thanks to Mrs Gidman for all of her hard work today. I'd also like to thank Mrs Messina for volunteering and for tidying our classroom after the wild banquet.
I've posted the pictures from today below. Thank YOU for your efforts with the costumes, parents. They were amazing!
Finally, thank you to the children for their enthusiasm.
Mr S
Grace works on a number line...

Here is an example of some of our afternoon work in computing using SeeSaw with a cross curricular link to maths. The children were tasked with adding to 100 from a given number, using a number line. They have to take a photo, add annotations and record audio over the top to present their ideas.
7th November
Welcome back everyone. I hope you all had a good half-term break. The children needed the rest and they have come back on fire. We've had a good start to this term and lots of the things we were learning to do last half term have now become (almost) second nature to us.
I maths we've hit the ground running by delving into addition, adding 2-digit numbers to ones, tens and other mixed two digit numbers. Shark fin method has been very useful for this and I'll post some video examples of this from the children later in the week. I've added time tables to our homework and we'll be doing a weekly quiz on them. I've included the information you need for this int he homework books. 
In English we've been working on our study work as well as progressing to phase 6 phonics. In phonics we've been looking at past tense and adding 'ed' to verbs. We still have plenty to do on this but we've learnt how to add ed to verbs ending in e. 
Our topic work has been fun and we have been learning about the life of a paige!
In Geography we've been looking at China and Wales and some of their dragon culture.
Don't forget topic day next Tuesday! 
Mr Sykes
24 October 
We had a great day at Whittington Castle yesterday. A huge thank you goes out to the parents helpers, Mrs Conroy, Mrs Holding and Mrs Mayne for their support with a busy day around the medieval castle of Whittington. 
Sue, our host, and Sir Grumpalot were very helpful, providing us with full day of activities ranging from dressing up to telling stories and going on a quiz trail around the castle in role. some of the room in the castle were lovely and the children had an opportunity to learn lots about life in the castle.
I'd also like to thank Mr Gidman who, as always, was instrumental in the organisation of the day.
I'll post pictures of the trip below.
Half term is already upon us. We've pencilled in the date for the 13th November for our medieval topic day. Children are invited to come in fancy dress (knights, princesses, kings, queens etc) and participate in a day of medieval activities which will lead up to a final banquet at the end of the day. I'll send out an email from the school office about this before the end of the week.
Homework is listed on the Homework pages and in the children's books.
Have a great half term and thanks again for your support this term.
Mr S
18th October
It was chaos...
...and I don't believe the year two classroom has ever seen the likes of it before, nor is it likely to see it again! Oh yes, we began creating our castles in cardboard this week. The children were  brilliant at working in teams to create all of their pieces ready for fixing and painting next week. A huge thank you goes out to parents for all of the packaging that was sent. There is still just about enough room in the classroom for the children to climb in each morning :)
I am sitting down with Mrs Gidman this week to arrange our topic day for the early part of next half term. We will be confirming this later but fancy dress for all will be a part of the day (Medieval/Dragon themed) just to give you all a heads up. 
In maths we are working on number bonds to 20 and relating these to subtraction facts and bonds to 100. We will then move on to solving word problems involving these facts before the half term break.
In phonics we've been working on spelling tricky words from phase 5.
In English we have answered questions about the first chapter of our new book (The Dragonsitter) as well as retelling familiar stories.
Next week is the school trip to Whittinghton Castle. I visited the castle with my children on Saturday. Sue Ellis, the castle manager was lovely and took the time to show us around the site. It looks set to be a lovely trip. We've been learning about Whittington and some facts about its geography. The children will be using this in their study work and the trip will really help to bring this aspect of their learning to life.
Finally, we created our family Christmas cards this week. Don;t forget to place your order online and return the cards asap so that they can be sent off for printing. I've posted a few pictures of the cars in progress below.
Have a lovely week and see you at the Fireworks Extravaganza next Friday! 
Mr S 
8th October
Because Willaston School is the best…
Music has been a big feature of our current learning. We have started a new unit of learning in music and the children have been playing body percussion and untuned instruments for call a response beats. In our singing assemblies we have been learning songs for harvest and our KS1 nativity has finally arrived! Very exciting!
And it has been another busy old week in year 2! After lots of hard work in maths, we are finally ready to move on from place value. We'll keep revisiting it in mini lessons but next we will be moving on to addition and subtraction. Please support your children's learning by helping them to know their 2, 5, 10 times tables as well as counting in 3s, 4s, and 8s. Any support at home will greatly benefit the children in class.
In English we have finished our last piece of writing for George and the Dragon. We now move onto our new book, The Dragonsitter by Josh Lacey. This will be out main book of study until December and all of our English learning will be based upon it. No need to read this one at home though please as I'd like to surprise the children in our lessons with each stage of the book.
Thanks again for the additional homework tasks that have come in and also the cardboard that we will use for our DT and science project. The children are very proud of their work and so are we. I particularly liked the science task Jack made and Harriet's medieval musical instrument research this week. During the remainder of this week, we'll be learning more about Whittington Castle as part of our top secret study work.
Reading
Mrs Gidman has been working hard on book banding the children. We aim to get through the whole class within this term and if we can go faster, we certainly will. We've started banding the children who haven't been assessed for the longest time. If your child hasn't been banded, please don't worry. We will get there but we like to work chronologically.
Also, if your child doesn't move up a level when banded, please don't be disheartened. They will get there and will be reassessed when we feel they are ready. The assessments take into account understanding of the text as well as fluency. You can help with reading at home by stopping to check their understanding of what they've read after a few pages. If this means less reading but more understanding, that is absolutely fine. Children are still free to change their books daily after lunch. I know there are a few that don't remember this despite reminders from home and me. We'll keep hounding them!
Have a good week!
Mr S
Get well soon, Jayden!
4th October
Hello everyone,
We've been getting technical this week. The children joined our class SeeSaw account using the QR codes around the room. They've made videos about each other and in maths they've used the app to create mini videos explaining how a numbers can be shown. Jake and Olivia BW provided a brilliant example for everyone in the class - I would not be surprised if they became famous Youtube celebrities. The audio and for this picture is below.
In English we've been publishing our letters to cousin Benjamin. I can't wait to read the final versions. In our reading we started our whole class guided reading sessions. These will take place each Monday. The children did well with the first story - an ebook called ' Dragon in the City'.
Each morning our first task of the day is phonics related. We are currently recapping phonics from phase 5 which most of the the children studied last year. After half term we will begin phase 6. Some children stay in class with me, some move next door to work with Mr Ford and others work with Mrs Gidman.
*Please Note:
I've also sent home the CGP books this week. Please keep them at home except for Tuesdays when homework needs to be handed in.Children need only hand in the book that corresponds to the homework they have done that week, either in SPaG or Maths. The other book can remain at home until it is needed. Please only complete the homework that I set in these books. I will try to match it to work we have covered in class and its much better to tackle the work little and often rather than sitting down and doing big chunks of the book. In some cases there will be a different homework set.
Have a good week!
Mr Sykes
Jake and Olivia BW - Ways to show a number
27th September
Firstly, can I just say how cool some of the homework is that the children have done from the topic web? Well I'm going to say it anyway. thank you so much for your effort with these. We've spoken about some of the Norman shields that have come into school and I've posted picture of Mr Ford modelling them below.
On Tuesday next week, we'll get the homework books out in the afternoon for everyone to share any topic homework with each other. I'll set up a  carousel so that everyone can take a peek at what has been created at home. I'll send the shields home that have come in so far after this event.
It's been a busy week of learning but the thing I'd like to talk about most is how lovely the children have been. We've had some lovely moments of kindness, for which 'Fred' has been rightly deployed. Children have been helping each other get into school, tying each other's laces, looking after each other at play time and helping with each other's learning. It's lovely to see.
In out English we've continue to work on George and the Dragon. The children had a letter from George's cousin today so we are planning our replies. In maths we've been comparing numbers and using the greater than, less than and equal to symbols. In reading session the children have been reading in small groups. We are now going to develop the reading sessions so that we are doing whole class reading sessions, mixed in with group reading session with an adult. Our next book lends itself well to this form of reading session so that will be very exciting.
Our study work books are top secret and as it is the first time we have done these, we are going to keep them a secret from you until they are completely finished. Towards the end of the term I'll organise an open session where you will be able to come in so that your child can share their work with you. We've been looking at watercolour this week and the children have created some brilliant landscapes. This is good news because only the best work will make it to our study books so we have to be extra focused when we are creating this beautiful work. I'll let you know about that later in this half term so that you can book it in.
Have a great week!
Mr S
20th September
Busy busy busy in year two. We're getting to grips with things now and we're beginning to crack on with what we need to do each day.
In English this week we've been continuing our work on George and the Dragon and we found out what the Dragon's secret was! Very exciting! I'm sure the children can tell their parents all about it.
I maths lessons we have continued to work on place value and partitioning using concrete resources and we shall carry on for another week or so until the children until the children are super confident mathematicians.
The children produced some great sketches of the dragon which will use to help us understand the dragons shape and features in our other art lessons. In music we learnt how to control pitch and what that means. We'll be doing some more work on this next week.
In PE we've been learning some simple games and learning how to dance like dragons. In topic work we learned about medieval castles and named some of their parts and what they were for.
And finally, in science we've begun looking at materials and their properties. The children had lots to offer in this session and they also helped me solve the problem of which kitchen roll to use to wipe up the mess from my leaky bottle. 'Ultra Thirsty' from B&M was by far the most absorbent - I'm sure you'll be very pleased to know...
And there's still a whole day left!
Mr S
A great first few days...
It has been lovely to meet my new class in year 2 and get to know them a little better over this week and a bit. We've lots of exciting things to do this year and we've already begun our learning journey. We've started our class text of George and the Dragon, I've learnt a little bit about the children's lives, we have produced some work for our class displays and have learned how to set out work in our books. In maths we are working on our place value understanding. We've learned about our classroom resources, written a mantra, written a class song and someone has even taken Fred the dog home for his first adventure. All in all, its been a busy but wonderful few days and I can wait for the rest of the year.
Tonight was my "Meet the Parents" night! Thank you to all those who attended. I've posted the PowerPoint below for anyone who missed it.
A date for your diaries will be 23rd October when we will be visiting Whittington Castle (very exciting!) for our school trip, learning about medieval life. Look our for the letters next week.
Mr S
***I will be posting photos of our learning journey in next weeks update, once I've checked the photo permissions lists thoroughly. If you've not indicated that you are happy for photos of your child to be published on the school site, please let the the office know so that we can update our lists.